I was 14 years old when I first thought I was "fat" and started to restrict my eating.  Throughout the years, I starved myself, made myself vomit, and over-exercised.  Unfortunately, my experience is not uncommon.
10% of college women suffer from eating disorders
One in 200 American women suffers from anorexia
Two to three in 100 American women suffers from bulimia
1.1% – 4.2% of females suffer from bulimia nervosa in their lifetime.
More than 50% of teen girls and nearly 33% of teen boys admit to using unhealthy methods to control their weight.
It took me many years to come out of this sickness want to be healthy again.  I wish that I could have come to understand sooner that I am beautiful when I am strong, happy, and truly engaged in life.  I spent too many years miserable because being "skinny" was my main priority.
It is critical that people who are suffering from an eating disorder get help from a medical doctor and a licensed mental health counselor.  Disordered eating affects a person's body and brain, and it is important to get the help of professionals to get back on track.
If you know of someone who is suffering from an eating disorder, speak to him/her privately.  Suggest that they talk to someone and help them take the steps necessary.  If he/she is unwilling to get the help he/she needs, tell an adult.  I thank my sister for intervening and telling my parents that I needed help.  Also, a good friend found a support group for me and went with me to see a doctor.  When I was reluctant, they gave me the push that I needed to help myself.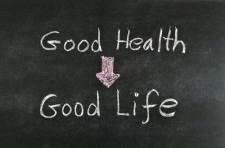 Don't hesitate to get help or help lead a friend to resources.  Eating disorders are deadly.  For women ages 15 to 24, the mortality rate of anorexia is 12 times higher than any other cause of death.
Take an anonymous screening for eating disorders and find more information at the National Eating Disorders Association.
You deserve the beautiful life you've made.
Celebrate your health.
Join the Stand UP Foundation on Friday, March 3 at 7:00 PM for a Neon Nights Walk at Harbourside.  The walk will educate participants about issues such as eating disorders and help fund Stand UP's programs.  Summit Performance Consulting LLC is proud to be a Neon Night's sponsor.  Click here to register!