A pre-game speech can influence athletes' performances and motivate them.  A well-produced pre-game speech motivates athletes because it directs their thoughts appropriately, often from distraction to focus, from anxiousness to excitement.
So what makes a pre-game speech a good one?  Technically, a good speech is one in which the coach uses appropriate language construction and emotional tone, such as variations in pitch, melody, rhythm, and volume.  The content must be specific to the team.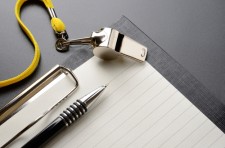 By giving a speech with meaning and vivid images, the coach can help prepared his/her players to perform the cognitive game.  The coach's pre-game speech can redirect players' anxiety and stress towards the most effective level of emotional arousal.
Motor performance can be enhanced with specific imagery.  Attention control and focusing are perhaps the most important cognitive skills during sport competition.
By telling an inspirational story, the coach could influence his athletes' schema as winners or cognitive appraisal of other aspects of the game.  This speech is the coach's opportunity to help athletes' manage pre-game anxiety and stress and direct the game plan.
The pre-game speech can promote team unity and communication.  It can get the team psyched up and have other social and emotional influences on performance.
Summit Performance Consulting LLC works with coaches, teams, and individuals to improve performance.  Contact us for more information at Info@SummitPerformanceConsulting.com or 561-325-8363.