Winning Ugly: Mental Warfare in Tennis–Lessons from a Master is a well-known book about the mental game of tennis by Olympic gold medalist and ESPN analyst Brad Gilbert.
Gilbert says that you can play at a higher level than you think you can and that you have the potential to beat so-called better players. Throughout the book, he recommends ways to study your opponent so that you can play to his or her weaknesses and earn more points.
Gilbert breaks down "smart tennis" into a three-step process:
Recognize your opportunity.
Analyze your options.
Capitalize on the opportunity by using the best option.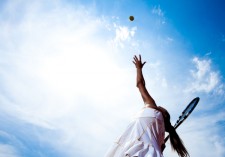 For example, the night and mornings before a match, Gilbert will think about the next day's competition. He'll actually play points out in his mind. He visualizes himself making shots and winning points.   He visualizes points that he and his opponent have played in the past and see himself making specific shots against that player.
Before the match, Gilbert thinks about the reasons why he won or lost to his opponent in the past. He goes through the following mental checklist.
What do I want to make happen?
What do I want to prevent from happening?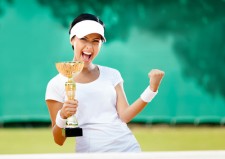 Gilbert evaluates his opponent and creates his own approach to the match by answering these questions:
What is my opponent's best weapon?
Where is my opponent weak?
What is my best shot and how can I direct it at my opponent's weakness?
What can I do to keep my opponent away from my own weakness?
What if we have not played the opponent? Gilbert suggests learning about your opponent during the pre-match. For example, hit a ball down the middle and observe which way they step. You can evaluate if they favor one side over the other.
Work on your game off the court to improve on the court.  Contact Summit Performance Consulting LLC at Info@SummitPerformanceConsulting.com or 561-325-8363 for more information.