Recently, I took my Wilderness First Responder recertification course and brushed up on those important skills regarding how to respond to emergencies in the wilderness.  I took the Wilderness EMT course five years ago, and used my skills on myself the day after I finished the course.  Since then, I have encountered several more situations in which wilderness medical skills have been helpful.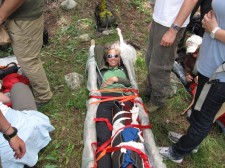 When you more than one hour away from definitive medical care, you are in a wilderness context.  How you respond to emergencies in the wilderness setting is different than when you are in an urban context.  You may not have access to a phone or reception and it could be hours or days until the patient will be able to reach Advanced Life Support – EMTs or the emergency room.
While you wait for help, you have a greater contact time with the patient.  Rescuers must be aware of the environment, which may be a primary problem or exacerbate injuries or illnesses.  Likely, you will need to improvise equipment needed for treatment and evacuation.  (Perhaps you will build a splint out of walking poles.)  Often rescuers have to make many decisions without the help of outside communication.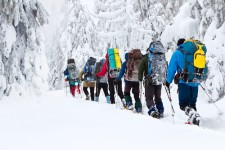 Prevention is key in the outdoors.  Be smart.
If you love to spend time outdoors, be prepared for emergencies.  Take a course in wilderness medicine at the National Outdoor Leadership School's Wilderness Medicine Institute.  I recommend their Wilderness First Responder course.
If you are a medical practitioner, learn how to manage medical issues in the wilderness setting through courses and conferences by the Wilderness Medical Society.
When venturing into the great outdoors, it is important to be prepared.  To learn more about how you can prepare your backpack and your mind for outdoor exercise, contact us at Info@SummitPerformanceConsulting.com or 561-325-8363.