Chris Condon is a Level 3 PSIA pro who has been teaching skiing for 18 years.  He give us some ski tips and describes the mental skills involved in skiing.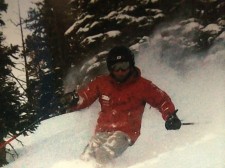 IMPORTANT MENTAL SKILLS FOR SKIING:
Different mental skills are important at different times.
Motivation and emotions are important at the beginning.
Focus is always important. Managing fear and anxiety are more important than trying to eliminate them.
Being able to imagine feelings and physical sensations is important for the student and being able to describe them is important for the teacher.
People skills are important for the teacher.
THE MOST IMPORTANT MENTAL SKILL WHEN LEARNING TO SKI:
Motivation.  Without the will, nothing will change.
INFLUENCE OF OTHER SPORTS:
Other sports help with flow and efficiently of movement in skiing.
COMMON MISTAKES PEOPLE MAKE: 
1.  Not coming prepared for what the weather can throw at them. Bring all equipment you may need. Take the risks seriously!  It's life or death.
2.  Taking things too seriously. It is supposed to be fun!
TO GET BACK INTO THE FLOW:
Take a lesson the first day of your vacation.
When beginning skiing or working to improve your physical skills, Summit Performance Consulting LLC recommends working with a professional ski instructor
Summit Performance Consulting LLC works with athletes at all levels on the mental skills required to perform well.  Often we work with clients via phone and Skype.
Learn more about how your performance can benefit from working with Summit Performance Consulting LLC.  Contact us at 561-325-8363 or Info@SummitPerformanceConsulting.com for a free consultation.