"Infant mental health" refers to how well a child develops socially and emotionally from birth to age three.  Infants and toddlers are totally dependent upon their caregivers.  Consistent and responsive care from specific adults is critical for the adequate development of their basic human capacities.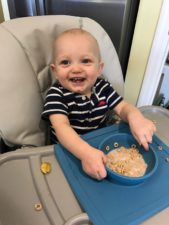 Research has shown:
Social emotional development is important to school readiness – as important as literacy.
Sensitive caregiving is essential for healthy development.
The architecture of the brain is affected by relationships and emotional experiences.
 Infant Mental Health is promoted by:
Providing families/caregivers with the necessary skills and tools to support healthy social and emotional development.
Supporting family/caregiver strengths and cultural values and beliefs.
Identifying early signs of emotional and behavioral concerns.
Promoting successful partnerships among families/ caregivers and community support systems.
Learn more about Infant Mental Health at:
World Association for Infant Mental Health
The Florida Association for Infant Mental Health
Join the Stand UP Foundation on Friday, March 3 at 7:00 PM for a Neon Nights Walk at Harbourside.  The walk will educate participants about issues such as infant mental health and help fund Stand UP's programs.  Summit Performance Consulting LLC is proud to be a Neon Night's sponsor.  Click here to register!