Lacrosse is a fun game.  If you're new to lacrosse or feeling a little rusty, read on to review techniques and rules.
Cradling
Learning the right way to cradle is essential to the game.  Avoid errors – keep the ball in your stick by cradling properly.  Watch this quick video to review the technique.
How to catch and throw.
Watch this video to learn the proper technique.
Rules
The 2016 Guidebook for Girls explains the rules in detail.
PlapSportsTV gives 10 Important Rule for Beginners.
Here are three important rules to remember:
3-second rule
When the person with the ball is closely guarded within the restraining area, she has three seconds to pass the ball or change her cradle – either switching her hands or the level she is holding the ball. If the ball remains stationary for more than three seconds, the referee awards the defense with a free position.
This lacrosse rule is exempt if the offensive player is behind the goal and the defensive player guarding her is in front of the goal and mirroring her.
Avoid the goalie circle
Players must stay out of the goalie circle. A goal does not count if the shooter or another offensive player steps on or into the goal circle or interferes with the goalie.
A defensive player can reach her stick inside the goal circle to block or redirect a shot.
Empty stick check
A girls' lacrosse player can't check another player's stick that isn't in contact with the ball.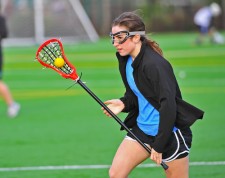 Play safely, fairly, and have fun!
Summit Performance Consulting LLC works with athletes and students of all levels.  Improve your mental game and perform better.  Call us at 561-325-8363 to learn more.