This week Summit Performance Consulting LLC is celebrating the Honda Classic at PGA National Resort & Spa Champion Course in Palm Beach Gardens, Florida now until Wednesday, March 1, 2015.  144 players will compete for a purse of $6.1 M, with the winner receiving over $1 M.
Perhaps the most useful technique for gaining control of your golf game is the pre-shot routine.  The best golfers practice their pre-shot routine each and every time they make a shot so that it is consistent.  Look at Annika Sorenstam.  Her routine takes exactly 24 seconds from start to the conclusion of her follow through – and has not varied more than 1 second throughout her 14 years of professional golf!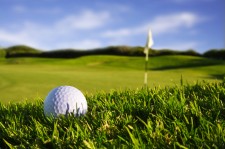 I suggest a pre-shot routine that creates a play box and a think box, separated by a decision line.  Imagine a 6ft box that is your play box and a preparation area before it, your think box.
In your think box:
Think about your shot lie of the ball, distance to target, wind direction and force, choice of shot, and club selection.
Visualize the shot starting – from start to finish
Make a swing or two focusing on the feeling that will lead to the desired shot.
Cross over the decision line into your play box.
In your play box:
There is nothing to do but execute the shot.
Confidence
Clear mind
Don't make any adjustments here, execute the shot planned.
A pre-shot routine is a way to get into the zone when you need to and have more control over your game.  Practice your pre-shot routine each and every time so that it is consistent.
Summit Performance Consulting LLC works with golfers and athletes of all levels to take their performance to the next level.  Contact us at Info@SummitPerformanceConsulting.com or 561-325-8363.