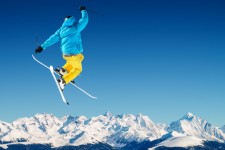 The ski season is almost over, and many of us are celebrating the good times we had on the slopes.
The end of the season is a great time to rejoice in the good times that you had, reflect, and plan for next season.  It's important to take the time to celebrate your sport season.  Take the time to do this.  It might not be the best skiing day, but take the time to celebrate with your friends.
How to do this?  Make that extra effort to get into the spirit.  Why not?
Dress up!  At Aspen Highlands closing day, people dress in retro ski gear and in fun costumes  Go for it!  This year, you'll see my crew in 80's gear that we garnered off of eBay.
Our theme – 'Remember these Juicy Fruit commercials from the 80's?!!
They always get me pumped up to hit the slopes.  Check them out:
And the 1991 commercial:
Doesn't that get you psyched?!  'Hope you had a great season on the slopes!
Summit Performance Consulting LLC works with skiers, snowboarders, and athletes of all levels to take their performance to the next level.  Read our skiing and snowboarding blogs.  And contact us at Info@SummitPerformanceConsulting.com or 561-325-8363.