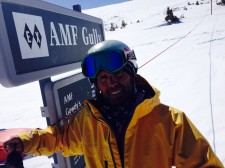 Chris Brockman, "Brocky," is a diamond-level snowboarding instructor at Snowmass.  He has won several amateur titles in the halfpipe slopestyle and boardercross.  Brocky is a well-rounded snowboarder who can do it all at a high level.  He gives his thoughts about the mental skills involved in snowboarding.
GREATEST ACCOMPLISHMENT:
Teaching snowboarders and helping them to live a more healthy lifestyle.
IMPORTANT MENTAL SKILLS:
To me the most important mental skill in learning snowboarding is motivation.  When students are internally motivated, they can overcome fear, anxiety and apprehension.  Strong motivation helps keep people focused on the task and keeps them getting up after each fall.  It's an easy lesson when people really want to learn.
INFLUENCE OF OTHER SPORTS:
Surfing plays big time in my personal riding, I have a surfer riding style.  Wrestling made me understand that repetition builds sound reactions.  In big snowboarding, you have to react quickly – there is no time to think.
GETTING OVER THE FEAR OF JUMPING:
Start small.  When I learned to jump and when I teach jumping, I always start small and slowly progress to larger jumps.  There is always fear.  However, you become skilled and are able to manage the fear.  A lot of repetition will create sound reactions.  Then, you're thinking about how to go bigger and better.
PREPARING FOR COMPETITION:
Usually, there are two runs.  In my first run, I do the easier maneuvers to get a good score.  In the second run, I do more technically challenging tricks.
There is a lot of waiting in competition and the conditions may change as you wait.  You have to be patient, and you have to realize that the winner is who is best in those conditions at that moment.
ADVICE FOR BEGINNERS:
Take a lesson from a professional instructor or you can take a beating.
ADVICE FOR BOARDERS BEGINNING TO COMPETE:
Get on a team with good coaches. Training with a coach and teammates with the same goals will push a rider.  Also, going to a lot of competitions in different conditions will help prepare the rider for any conditions and get him accustomed to performing in competition.
When beginning snowboarding or working to improve your physical skills, Summit Performance Consulting LLC recommends working with a professional snowboarding instructor.
Summit Performance Consulting LLC works with athletes at all levels on the mental skills required to perform well.  Often we work with clients via phone and Skype.
Learn more about how your performance can benefit from working with Summit Performance Consulting LLC.  Contact us at 561-325-8363 or Info@SummitPerformanceConsulting.com for a free consultation.