BE A CHAMPION IN YOUR MIND
Become an expert by watching experts compete and visualizing yourself performing the skills as they do.  Observe a champion and imagine yourself as one.
OBSERVE
Watch the sports you play. It helps your game to observe how champions perform. Examine one aspect of play at a time to hone in on specific skills.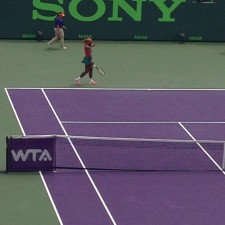 I went to the Sony Open and watched Serena Williams compete against Na Li. I am no Serena Williams nor Na Li, but I watched how they won their points. I watched their shuffling feet and fluid swings and imagined myself trying to return each shot with the same grace. Specifically, I examined Serena's backhand and I practiced the swings in my mind.
IMAGINE
See yourself as a champion.  Become a Champion.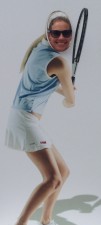 Visualize yourself as a champion when you are competing.  You don't have to pretend that you are someone else, but you can imagine that you are a stronger competitor.  Become a champion to compete like one.
On the tennis courts, I imagine that I had the muscles and power of Serena Williams. I can imagine being strong like her, and I visualize her smooth strokes as I execute mine. And I hit my shots more consistently.
Visualization is an important tool in sport psychology.  There are many ways to use visualization to improve performance – on and off the field. Summit Performance Consulting LLC teaches athletes and students how to best use imagery, among other mental skills. Find out how your performance can benefit from working with Summit Performance Consulting LLC. Often we work with clients via phone and Skype. Contact us at Info@SummitPerformanceConsulting.com or 561-325-8363 for a free consultation.