Which is better – the Nike+ Fuelband or the Fitbit Flex?  I have both and have been wearing both of them around so that I can do a proper comparison.
I've been running, riding my bike, doing yoga, playing tennis, walking, etc. with both the Nike+ Fuelband and the Fitbit Flex on my wrist.  They both track my steps, calories, miles, and sleep, and they both sync up to my devices.  So, let's look at how they differ.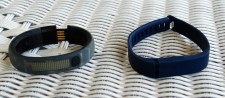 PRICE
The FitBit Flex is $100; the Nike+ Fuelband SE runs $150.
APPEARANCE
The FitBit Flex looks cooler.  You can wear different colored bands.  With the Nike+ Fuelband, you are stuck with the same band.
AWAY FROM YOUR OTHER DEVICES
The Nike+ Fuelband shows you the time and your fuel point , calories, or steps.  It's nice because I don't have to wear a watch or hook up to a device to see how much activity I've accomplished.
You can program the The FitBit Flex so that the lights on the band indicate real-time progress on hitting your goals.  However, it's a small row of lights, not the visual you get with the Nike+ Fuelband.
IN THE SHOWER
FitBit Flex is okay.  It is recommended that you do NOT wear the Nike+ Fuelband in the show, though it is water-resistant.
EATING
You can record everything you eat into your FitBit log.  However, I don't use this feature at all.  I pay attention to what I eat, but I don't keep a food log unless I am on a special diet.
WHICH ONE IS BETTER?
The choice is difficult, but I choose the Nike+ Fuelband because of the display on the band itself.  It allows me to take off my watch when I work out.  Also, I like to check on how I am doing during my workout.  The Nike+ Fuelband lets you know your stats then and there.
A NEW OPTION
The Garmin Vivofit.  It does it all for $130.  The display is on the band.  You can change between straps available in 5 colors.
Using an activity tracker can be a fun way to measure your progress.  If you want to reach your full potential, try working with a sport psychology consultant.  It's a fun way to build your mental skills and become the athlete you've always wanted to be.  Call us at 561-325-8363 or email us at Info@SummitPerformanceConsulting.com for a free consultation.